As far as most minds are concerned, the very words 'computer programmer', 'geek' or 'nerd' usually does not tend to conjure up an image of the most physically fit human beings that walk this planet. As a computer programmer myself, I have never really paid active attention to my health, exercise routine or a healthy life style. Old acquaintances back at school often referred to me as 'bill gates'. Well, what they meant was, this bill gates: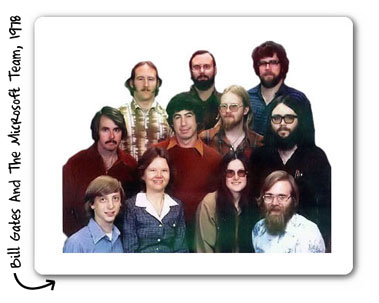 Honestly, being called out for being skinny every once in a while or the element of physical appearance somehow never seemed important enough to move to a stringent exercising regiment and then sticking to it. I hardly ever thought that I would be consistently or actively thinking about health leave aside, exercising and writing a series of blog post on it.
Things That Move A Nerd And Getting Him To Give A F@#CK.
During my life, a decent number of well-wishers have asked me to pay more attention to health and exercise. 'Its good for your body', 'its good for your mind' and 'it will make you feel good' are some of the most common reasons that have been sited.
What most folks forget however, is that when you are selling a life-changing idea that needs solid commitment to a geek, selling him physical appearance, the idea of 'feeling good'  or the concept of well-being is not going to do it. The geek as it turns out, does not care enough for that stuff. At-least, he wont admit that he does, even if he cares about these things. He likes his dark cave and his interactions with his compiler.
He just won't buy your 'it will make you look and feel good' argument.
What the geek needs is a challenge or a problem that he can connect to. A problem that is worth fixing. A problem that is engaging and consuming as a software program. Something that he can connect to. Consider this thought process from John Walker:
I'm an engineer by training, a computer programmer by avocation, and an businessman through lack of alternatives. From grade school in the 1950's until 1988 I was fat--anywhere from 30 to 80 pounds overweight. This is a diet book by somebody who spent most of his life fat. The absurdity of my situation finally struck home in 1987.

"Look," I said to myself, "you founded one of the five biggest software companies in the world, Autodesk. You wrote large pieces of AutoCAD, the world standard for computer aided design. You've made in excess of fifty million dollars without dropping dead, going crazy, or winding up in jail. You've succeeded at some pretty difficult things, and you can't control your flipping weight?''

Through all the years of struggling with my weight, the fad diets, the tedious and depressing history most fat people share, I had never, even once, approached controlling my weight the way I'd work on any other problem: a malfunctioning circuit, a buggy program, an ineffective department in my company.
Michael Lopp in his article on The Nerd Handbook describes one of the examples that can really move a nerd to address fitness. He explains:
Make it a project. You might've noticed your nerd's strange relation to food. Does he eat fast? Like really fast? You should know what's going on here. Food is thrown into the irrelevant bucket because it's getting in the way of the content. Exercise, too. Thing is, you want your nerd to eat healthily so that he's here in another thirty years, so how do you change this behavior? You make diet and exercise the project.

For me, exercise became the project ten years ago after a horrible break-up. When the project was no longer the Ex, I dove into exercise every single day of the week.

There were charts tracking my workouts, there were graphs tracking my weight, and there was the exercise. Every single day for two years until the day I passed out in a McDonald's post-workout after not eating for a day.

Ok, so time for a new project. Yeah, nerds also have moderation issues. That's another essay.

Significant nerd behavioral change is only going to happen if your nerd engages in the project heart and soul, otherwise it's just another thought for the irrelevant bucket.
For someone like me, the idea of being called fat or the idea of a break-up is not compelling enough to get my ass off the couch and start running, but if you can appeal to my brain and convince me with objective and scientific facts which tell me that getting up and walking five miles a day will help me write better code, you have my attention.
With me the idea of exercise every day started rather recently with a realization that the ADHD that I often joked about having and never even bothered to get tested or formally diagnosed, was starting to impact my life and was preventing me from working on things that I always wanted to work on.
The open source timesheet entry system that I started, my announcement of working on a book and my announcement of starting to write technical posts were just some examples of incomplete ideas that have not yet seen the day of light purely because I could not generate enough focus or attention that these activities deserved. To be honest, there are a zillion more ideas that float in parallel and create a turmoil in my head.
After a while these things get painful to deal with.
This was clearly a problem needing a solution. It was time to do some serious geek-type-research using the same information tools that I use when I sit down to research a new topic when I am going to blog about it. One thing that kept coming back in all the research that I read about and all the material that I came across was that cardio-exercises have concrete and scientific benefits at improving your attention span.  
Strangely enough, it was these scientific researches I read about (which I might do another blog post to talk about) that I could connect to the most. And then, one fine morning, on my way to office, I got off the bus a couple of miles before office and walked. The nerd in me had voluntarily and seriously started giving a f@#ck about this workout thing.
In the end things are fairly simple. As programmers we tend to build some fairly complicated systems and work on some fairly interesting problems. We are often in a war on multiple fronts, where chances of losing are way higher than chances of winning.
But we adapt, improvise, and work.
Consistently.
If you can build complex software that works reliably in a production environment and not police or panic even when the sky is falling, figuring out a fitness regiment that meets your need, clears your head, helps you focus and keeps you mentally fit, should not be all that hard, if only you can get the nerd within you to give a f@#ck.
How you get the nerd within you to give a fu#@k however is a whole new problem that you are going to have to deal with yourself. For me, it was ADHD and the fear of not being able to work on things that I always wanted to work on. For you, it could be something totally different. Whatever it is, the sooner you can convince the nerd within you to get his ass off the couch and run a few miles consistently day after day, the better off you are.
I wish you good luck.
---
Comment Section