"Be Reasonable. Be Practical. Grow up. Be Professional" -- this or just another form of this advice is what you probably received when your teachers and acquaintances wanted you to stop playing around and tow the line.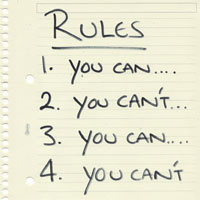 Seth Godin's recent blog post, is a slap on the face of people who want you to toe the line and act "reasonably":
It's unreasonable to get out of bed on a snow day, when school has been cancelled, and turn the downtime into six hours of work on an extra credit physics lab.

It's unreasonable to launch a technology product that jumps the development curve by nine months, bringing the next generation out much earlier than more reasonable competitors.

It's unreasonable for a trucking company to answer the phone on the first ring.

It's unreasonable to start a new company without the reassurance venture money can bring.

It's unreasonable to expect a doctor's office to have a pleasant and helpful front desk staff.

It's unreasonable to walk away from a good gig in today's economy, even if you want to do something brave and original.

It's unreasonable for teachers to expect that we can enable disadvantaged inner city kids to do well in high school.

It's unreasonable to treat your colleagues and competitors with respect given the pressure you're under.

It's unreasonable to expect that anyone but a great woman, someone with both drive and advantages, could do anything important in a world where the deck is stacked against ordinary folks.

It's unreasonable to devote years of your life making a product that most people will never appreciate.

Fortunately, the world is filled with unreasonable people. Unfortunately, you need to compete with them.
Fortunately, being unreasonable is not as hard as it used to be. Fortunately you can be a guerilla entrepreneur where you practice the unreasonable, experience the sex part of your development life and let your day job handle the reasonable realities and the cash part.
That or become a part of or build an organization where being unreasonable, is totally reasonable.
If you are one lucky son of a gun, you can end up doing both too.
Either way, you have no excuses for towing the line and living by the rulebook.
I wish you good luck.
---
Comment Section