Sixteen Captains
Back in my school-days our school had figured out a brilliant plan to keep every student motivated and build an environment where none of us would create a ruckus. The secret to doing this; as it turns out; was --- badges.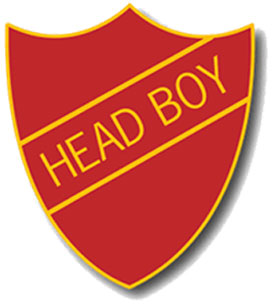 The idea was a simple three step approach:
Break the class into groups of 10 to 12 students.
Call these groups 'houses'.
Make two 'captains' and two vice captains for each house.
If you were talking about a class of thirty students; you were talking of two class captains; two class vice captains; and then there were twelve captains and vice-captains at the house level. Put simply; if you were discussing a class of thirty students you were talking around about sixteen guys who were 'in-charge' of maintaining the discipline. If you did not happen to be in this sixteen; chances were; that you were way too dumb to create a ruckus or make trouble anyways.
As funny as this might sound to you; there were win-win elements attached to this arrangement:
The school loved this arrangement because the smartest, craziest, wildest, funniest, loudest trouble-makers; who make dents in the universe and challenge the status quo; after they leave school; would tow the line and would be spending most of their time getting others in the line till they were in school.
The trouble makers loved it because it gave them a head start at introduction with girls at interschool functions.
Look Around.
Before you snicker at the stupidity of the whole arrangement above or wonder how it would ever work; look around your organization and you will figure out exactly how such a funny sounding stupid arrangement works; not just with young immature teenagers; but even with grown up programmers. 
How many "Team leaders" does your organization have?
How many "Module Leaders"?
Vice Presidents?
Directors?
David at 37Signals describes this much more articulately that I will ever be able to describe it. He explains:
The title of vice president must be the most promiscuous of all in corporate America. Everyone seems to be a vice president these days. Some companies having hundreds of them. Are all of these people truly capable of standing in for the president or CEO of the company should it come to that? Are they really just one step below that person?

Of course they're not. Vice president is mostly an "all title, no lands" concept that serves as a cheap way to make someone feel important without the authority to actually be important. It's classic over-promise, under-deliver. "You're oh-so-important, but please fill out this expense authorization report for your laptop".

Titles are mostly bullshit at the best of times, but "vice president" seems to be bullshit all the time.
Now; go look around how and count how many simple 'engineers' you have in your organization.
Compare that number with all the number of people holding other fancy designations your organization might have.
You might be able to figure out how my school pulled off their funny little gimmick of getting the trouble makers to tow the line.
And Why Do Most Builders Take The Bait And Get Excited?
In my career --- I have been fortunate enough to be able to give promotion letters to quite a few genuine builders. I've seen engineers get promoted from engineers to technical architects; and every time I hand over the promotion letters I see a genuine smile on people's face.
This; dear reader; confused me for months.
For months; I would look at every builder smile when he was promoted; and I would look at them with a blank; confused look.
For months I wondered if every single builder; getting happy at being made fiftieth 'senior' executive in the organization of hundred employees; was an idiot to have taken the fish bait and get all excited?
The answer; dear reader; as it turns out --- is obviously not.
Remember the head-start-with-the-girls-at-interschool-functions part?
That (or something on the same lines) is exactly what is at play here.
Handling Designations
Flashy new designation does not 'exactly' give software developers a head start at conversations with girls at a pub; but it gets them more 'perceived-respect'  and a chance at being heard within the organization.
If you have been with me so far; chances are; that I've sold; two simple facts to you:
First; There are tons of useless designations out there; even in your very own organization.
Second; Irrespective of whether you are a builder or a whiner; chances are that you are going to feel a funny pinch of happiness when you are given one of these funny sounding designation.
What you do with this shinning flashy designation of yours; after that funny pinch of happiness wears out; eventually ends up deciding whether you continue to be the competent builder you currently are or you get yourself promoted to your level of incompetence.
Go ahead.
Reflect.
Are you continuing to be in touch with code or have you decided to turn around and run as far away from it at the first fancy designation you are given?
Do you continue to see the uselessness of the meetings you are now expected to attend?
Are you using your newly acquired title to bring about some positive change within the organization or at-least within your team?
Do you realize what your secret title really is?
And most importantly; do you realize that you are just one of the sixteen captains in a classroom of thirty students?
If you responded with a very confident 'yes' to all of the above questions; you should be just fine with your next flashy promotion.
Go ahead; accept it.
Then; go be the student who is ok accepting with the batch of a vice-captain; and then decides that he wants to continue being the smart, crazy, wild, funny, loud trouble-maker who makes a ruckus anyways.
I wish you good luck.
@BuildersAtWorkBookNotice
---
Comment Section