The Mango Warehousing Business In India.
The Mango-Warehousing business in India is huge and yet very few people do it.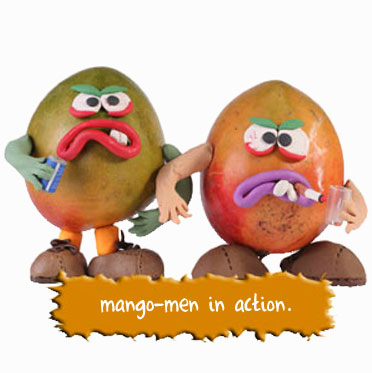 If you were to look at the business of warehousing mangoes; you might realize that; in order to get into the mango warehousing business; all you need to do is to go stay at the Mango-Farms in remote villages in India; during the mango season; look for the best prices that you can get and stock as many Mangos in your warehouses as you can.
The whole process involves some work; particularly before the mango-season in India.
Usually this translates to about a month worth of work.
Once you have put in that effort and have stocked the mangos; you go back home and sign a few sale-deals with retailers or grocery-stores. The signing of contracts with major groceries and distributors typically takes another month and does not involve any real hard-work.
If you; like a friend of mine; work in the business of warehousing mangoes; chances are that you probably work for just two months a year; and you make a truckload of money.
As tempting as some of these money making stories are; mango warehousing; dear reader; is not what I do for a living.
I build software and weave stories around software development.
Not to bring the people in mango warehousing business down; but I; dear reader; am not particularly interested in stocking mangoes for a living.
Are you?
The Point.
Now; if you have been knitting your brows with my mango-warehousing-commentary or the funny question it ended with; and nothing in this post seems to be making sense to you so far; would you; dear reader; do me a favor and count the number of business domains that you and your organization may have worked with in the last three years.
If the number crosses a dozen; chances are that your organization or you are a free floating developer with no niche or passion for the problem-domains you work in and you should seriously consider mango-warehousing in the farms of India as your next project.
I've witnessed quite a few consulting and product companies out there venture out into random business domains that have nothing to do with their niche and what most of them indulge in; can be referred to as trying-out-mango-warehousing-of-the-software-development-world. The cycle pretty much goes like this:
You find an industry in a remote corner of the world that no-one seems to be interested in; this gets you very little competition.
You spend couple of months building an application with a few CRUD screens around that industry.
You try to sell your CRUD screens to business folks on this industry; and then you make a truck load of money from those CRUD screens; or at-least that is what you try to do.
Put simply; you focus on making quick-buck by targeting obscure domains that have not been targeted yet; and then you build collection of random CRUD screens and PowerPoint presentations on the industry.
My previous organization for example was a classic example of this mode of working. We woke up one fine morning; discovered that there was a lot of money to made in training and literally ventured out in the business of software training.
A few wannabe-programmers; which no passion for teaching; were hired and turned into teachers.
It worked for a few months. Then we started sucking at it.
It ended with students literally rallying on their doors protesting against the poor quality of training they were providing compared to the money they were charging for these trainings.
Not to mention that in parallel; we has also ventured out into the world of retailing computer peripherals.
While this may sound like an extreme example of an organization trying to make easy money; by doing anything that can get them a quick buck; reflect on just how many absurd industries that you as a programmer might have worked in; for your current or past organizations.
Remember specialized accounting and payroll product for the tea-estates of the world that you organization was working on; or that specialized document repository designed specifically so that the oil mine workers can upload their well-files; or that specialized inventory tracking system that was supposed to help hospitals keep a track of their bed sheets.
You didn't feel anything about tea-estates; oil-mines or hospitals; did you? Neither was it your organization's niche. You were just trying to work for two months; get a few CRUD screens stocked and make a quick buck.
Your organization; dear reader; was indulging in act of trying to start mango-warehousing-in-the-software-development-world.
Genuine Mango Warehousing Happens To Be Hard.
Back to digressions. Remember how my friend does mango warehousing; works for just two months a year and makes a truck load of money?
If you were an average Fred looking at the business of Mango warehousing business from the outside; it seems simple. You work for two months; you hardly do any real work and you make a truckload of money; it seems so very easy.
It is only when you try it; that you realize that mango warehousing in India is serious business. It involves:
Owning warehouses; maintaining them; securing them; running them and operating them. All of it requires truck load of money.
Learning local languages (curious side-note: India; has more than twenty local languages); adapting to the local culture and knowing how local cultures work - not knowing this means you can literally get beaten up by the locals.
Developing a deep gut for how much harvest would happen in any given year.
Developing a gut for what a fair deal is; and then buying at the right price in the right time.
Developing contacts with retailers or people who would distribute your stock when the price is right.
The list dear reader; is endless.
As simple as it seems on the surface; Mango warehousing in India; dear reader; is serious business; it is hard; and can take you a life time to master.
For my friend's family; it took them two generations.
And believe it or not; during those two months; I think he feels really passionately about --- mangoes.
Where I am Going With This.
You see where I am going with this; don't you?
If your objective is to make money; it is easy to think of a thousand unexplored industries where you do not have a lot of companies building software. Then build a few CRUD screens around that industry and hope to earn millions through the collection of half-assed CRUD screens.
Next time you target a business domain; only because there is very little competition there and you think you can get away by not feeling-the-pain or just building a few oddly-stitched CRUD screens that save something to the database and spit out a few reports; think again.
Remember; mango warehousing is hard and the amount of passion and work you need to succeed in it is probably just as much as you need to build a project-path; even if; you do not see it at the surface.
Stop hunting un-explored industries and jumping from one domain to other in a desperate attempt to hit a gold mind.
Find a niche; become the best in the world at it and go build stuff that makes meaning.
I wish you good luck.
@BuildersAtWorkBookNotice
---
Comment Section