Motivation For Your Genuine Builders.
Steve McConnell in his classic book Rapid Development - Taming Wild Software Schedules describes a typical organization's approach to motivating their teams of builder; and what is wrong with the approach using the following illustration: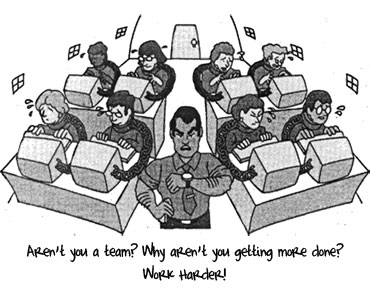 In the same book Steve talks about the importance of having some serious story-telling revolve around your project or your product. He explains:
The shared vision can be of something important—such as putting a man on the moon by 1970—or it can be of something relatively trivial - getting the latest update of the billing system out 3 weeks faster than last time. The vision can be virtually arbitrary, but as long as the whole team shares it, it will serve the same purpose of helping to bring the team together.

To have a motivating effect, the vision also needs to be elevating. The team needs to be presented with a challenge, a mission. The Amish farmers responded to the seemingly impossible challenge of building an entire barn in one day. High-performance teams don't form around ho-hum goals.

"We'd like to create the third-best database product and deliver it in an average amount of time with below average quality."

Ho hum. Yawn.

No team is going to rally around that.
Of-course; no vice-president high up in the pecking order will spell out the fact that he wants the boring database product with below average quality; but builders tend to have seriously strong gut-feeling built around reading between the lines and sensing what their organization ultimately wants from them.
If you are a manager; you could be sending out the mediocrity message to your team all the time. Multiple subtle ways of sending this message out exist:
The list is really endless. Reflect; and you might realize that your organization is sending out the mediocrity messages to your right now as you read this. Messages that you are taking and passing on to your team; as you sit and wonder why they are not hugely productive.
Newsflash!
There is a reason why dead-lines; panic; threats and policing does not work in software development - if your team is a team of whiners; you are trying these techniques on them will cause them to break down and black out. If it is a team of genuine builders --- they just do not care about you scoring fouls. Chances are; that they will either not listen; or if they do; they will eventually hibernate.
Most genuine builders that I have seen do not work for a ten-percent salary increment at the end of the year. What moves and motivates genuine builders around the globe are opportunities to make dents in the universe and leave their mark upon those dents.
They want to build stuff which changes things.
They want to work in teams and organizations which add meaning.
It's a purely selfish desire; with huge long-term benefits.
The drive most builders have for this desire is usually much more than a short term ten percent salary hike in a yearly review or a pat on their back from their managers. If these; and the items mentioned in the list above are the only tools that you can offer your builders; you are better off moving or outsourcing your development to a third-grade Indian body-shop.
If on the other hand you are lucky to have landed up with a team of genuine builders and you want them to take your products, business and organization to the next level; may I suggest that you:
Show them how the story impacts them personally and aligns with their long term goals.
Give them the tools to turn the story into a reality.
Now; Get out of their way.
Watch them innovate; contribute and execute flawlessly.
Observe and learn.
I wish you good luck.
@BuildersAtWorkBookNotice
---
Comment Section