My YouTube videos on Entity Framework have resulted in more heart warming comments than anything that I have ever done online. Even more than this blog.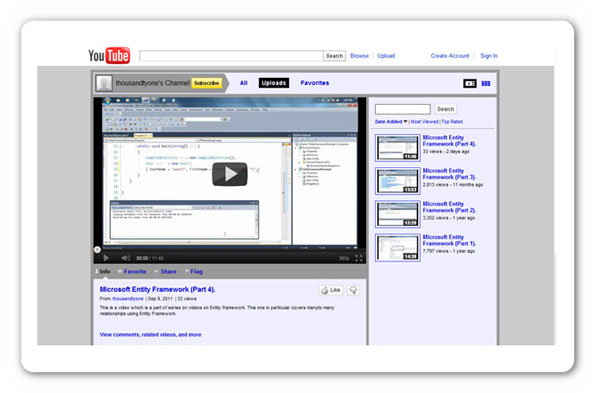 For me the videos and the response they received were a solid validation about some things that I've always talked about.
Social media (if you must call it that, I hate that term) isn't about broadcasting what you had for lunch or how depressed you are; because at the end of the day nobody cares about you.
Social media is about providing serious service to the best of your ability. Service that has the potential of touching someone's life by helping them with a problem, teaching them something, entertaining them or inspiring them.
Services that add genuine value aren't produced by someone tweeting about how sad they are. Genuine services that add value are built by slogging at something.
Focus on building amazing stuff and stop worrying about your subscribers or audience. If you build it, they will come.
With everyone asking for a part 4 of the video I have gone ahead and uploaded that on you-tube as well.
(The volume on these videos is a little low so you might have to use headphone and crank up your volume to a high level).
Some weeks ago I said that I was going to talk less and ship more. While I continue to strive to do that I wish you just the same. Every tweet, every post, every facebook status update, every you tube video that you publish is your chance to indulge in the act of adding value and ultimately changing the world.
Publish small. Publish consistently. Publish with others in mind. Publish the best of you even when you are publishing for fun. Publish responsibly.
I wish you good luck.
---
Comment Section