My wife and I are not into television and have not had a television for a very long time. A couple of months we bought our first new television in five years.
Both my wife and I were not sure how much time we would actually spend in front of it and hence the decision to go Froogle. That and I wanted to be able to control my devices and something like a Raspberry Pi is much more customizable than a locked down android television. We settled for a regular, not smart Vu TV and then build our own media center using a Raspberry Pi.
The TV is a 49 inch Grade A+ panel. So the display hardware is not Ultra-HD but on the Full HD side it is as good as it gets. Pretty nice and does what we need it to at a price that's almost half that of a Sony. Very soon we run into a couple of bumps:
My TV is Shocking Me! Strange Electric Shock on the Television Frame:
I initially start with the assumption that this is an issue with my earthing and call an electrician who tells me that my earthing is just fine and the TV is flawed. He asks me to file a request with Vu and walks out.
I look up the forum and discover there are even more expensive TVs out there that have the same issue. I call up support and they replace the TV but the new one has the same issue. This time around they can give me a refund but aren't willing to help with fixing the issue.
Frustrated I end up deciding to put some basic electronics they teach you in class eight to use. The idea is that the TV missing grounding unit that would connect the current flowing with the grounding socket inside the TV but we can do that externally without even opening the TV.
So let's buy a 50 cent copper wire from a local electric shop. Next, we find a spot on the TV that has electric current running through it. In other words, the area that shocks you. You can test this with a regular tester. We tie one end of the copper wire to the frame that has the shock and screw it up securely behind a screw that holds the TV mount.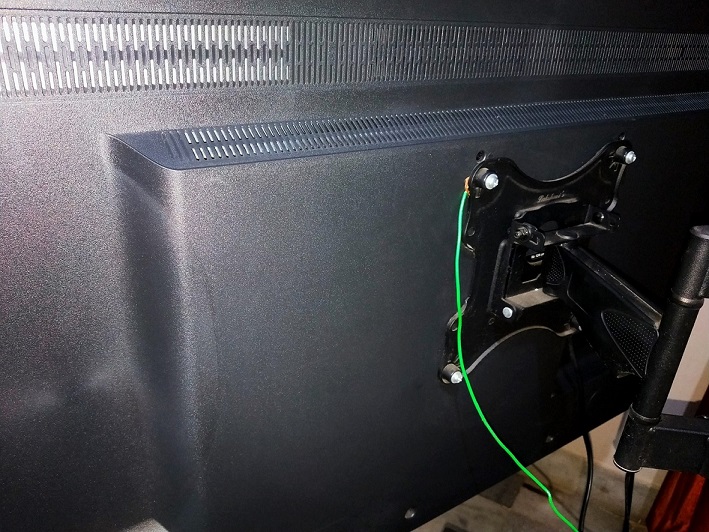 The other end goes to the earth pin. The  basic idea here is that since the TV does not provide for any grounding or earthing we earth the current running externally on the TV frame directly to the earth pin of the 3 point socket. This works for countries that support 3 pins and the 3rd pin is for grounding.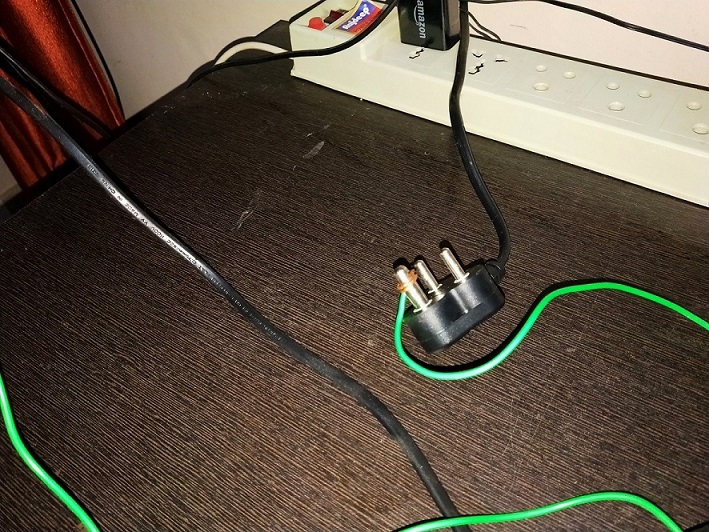 With the earth pin wound with the copper wire you ensure that any current running through the frame of the television runs through the copper wire, grounding pin and is eventually earthed effectively ensuring you don't get shocked which you touch the TV frame.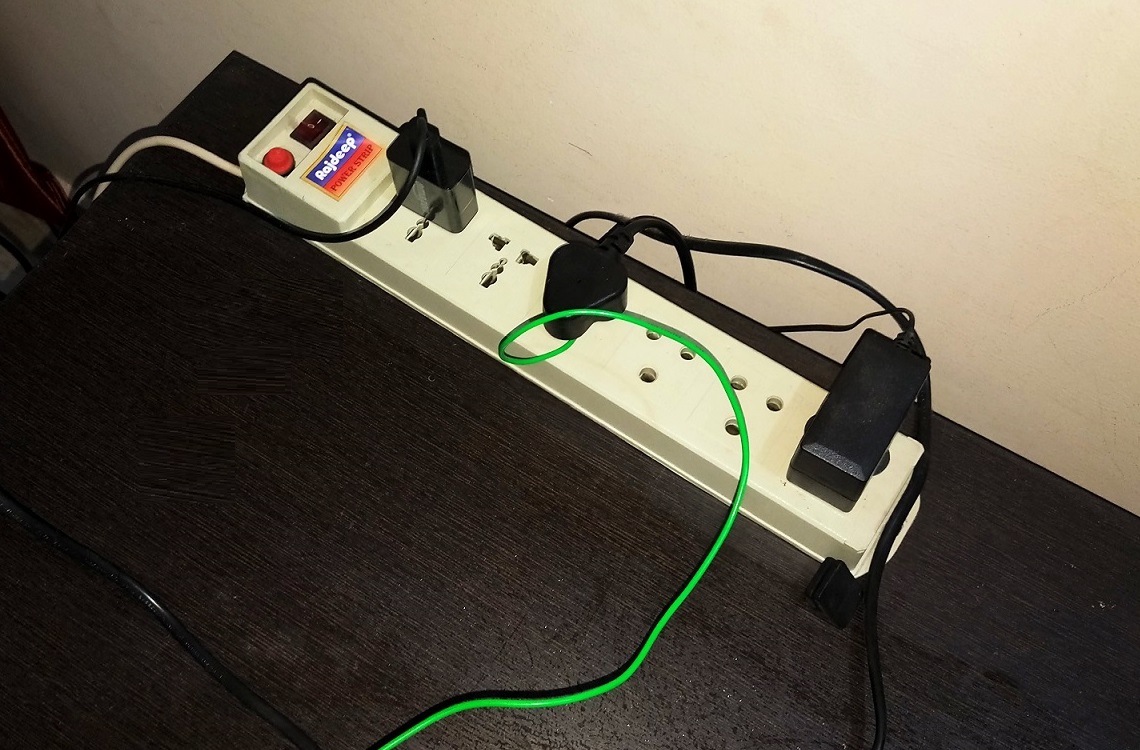 That actually works. I touch the TV and no more shocks. I guess Vu is skimping money by not grounding their circuits, but a 50 cent copper wire fixes that. We now have a really simple home made earthing on the TV frame. No more shocks. And the end product looks pretty elegant with the copper wire concealed behind the TV: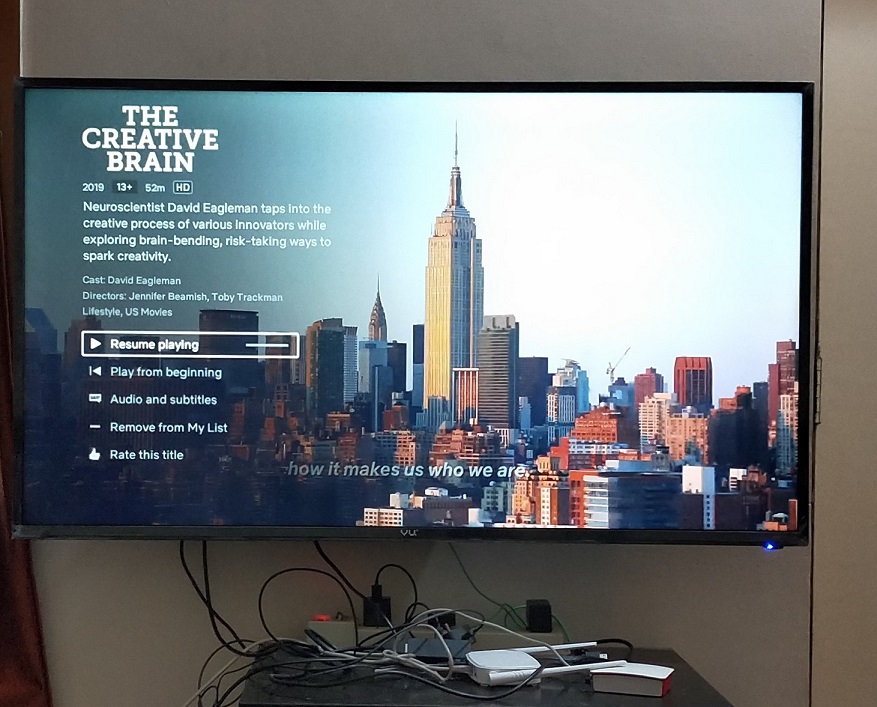 The overall result looks pretty neat and you can barely see the copper wire running from the back of the TV frame to the earth socket. Yes, the Pi and the Firestick and all those wires still need to be organized and concealed but the copper wire itself is that tiny green bit you see in the picture. Nothing objectionable.
I've seen a bunch of articles out there about TVs and monitors shocking people but no solution as such and I hope this helps someone who has a similar problem in future. It's simple class eight electronics you might have learned in your physics class put to some basic use.
Strange Skin Tone
The other day my wife and I were watching a stand-up comedy show and the skin tone of characters seems a little… artificial. Turns out this setting is controlled by something called 'Tint' in most TVs and the default Vu settings don't allow end-users to modify tint settings. The tint option is disabled by default, which means you can't change the setting: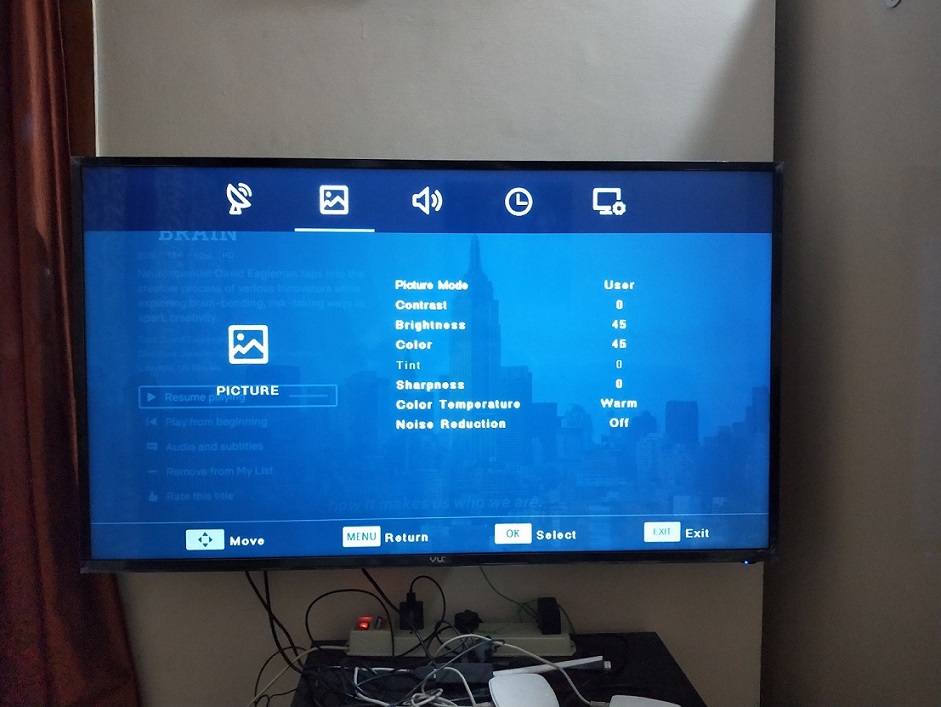 When I first see the setting, I realize it's bumped up all the way to 100 and no way to lower it. I wear my nerd glasses and hop on to a special hidden service menu most Vu TV's provide which can be reached by going to the sound setting menu, clicking on sound balance and then typing 1969 on the number pad in your remote. For some reason the folks at Vu like the year on the moon mission and have picked that to open up secret service menus on the TV: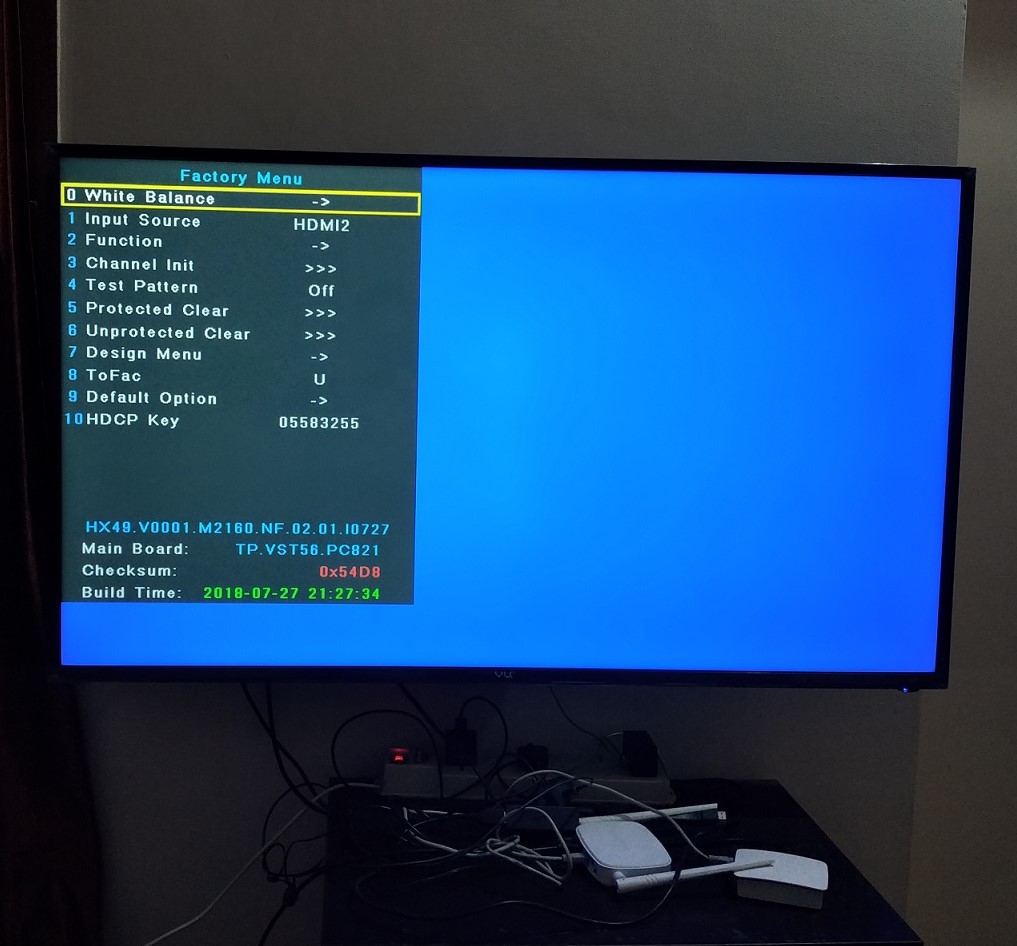 Notice that this mode is pretty powerful and pretty much allows you to control most tiny aspects of the TV a regular user may not even care about.
Once in, you can tell the TV to not use any special intelligence for skin tones by turning off the tint setting (which you are completely allowed to do in this secretly hidden service menu):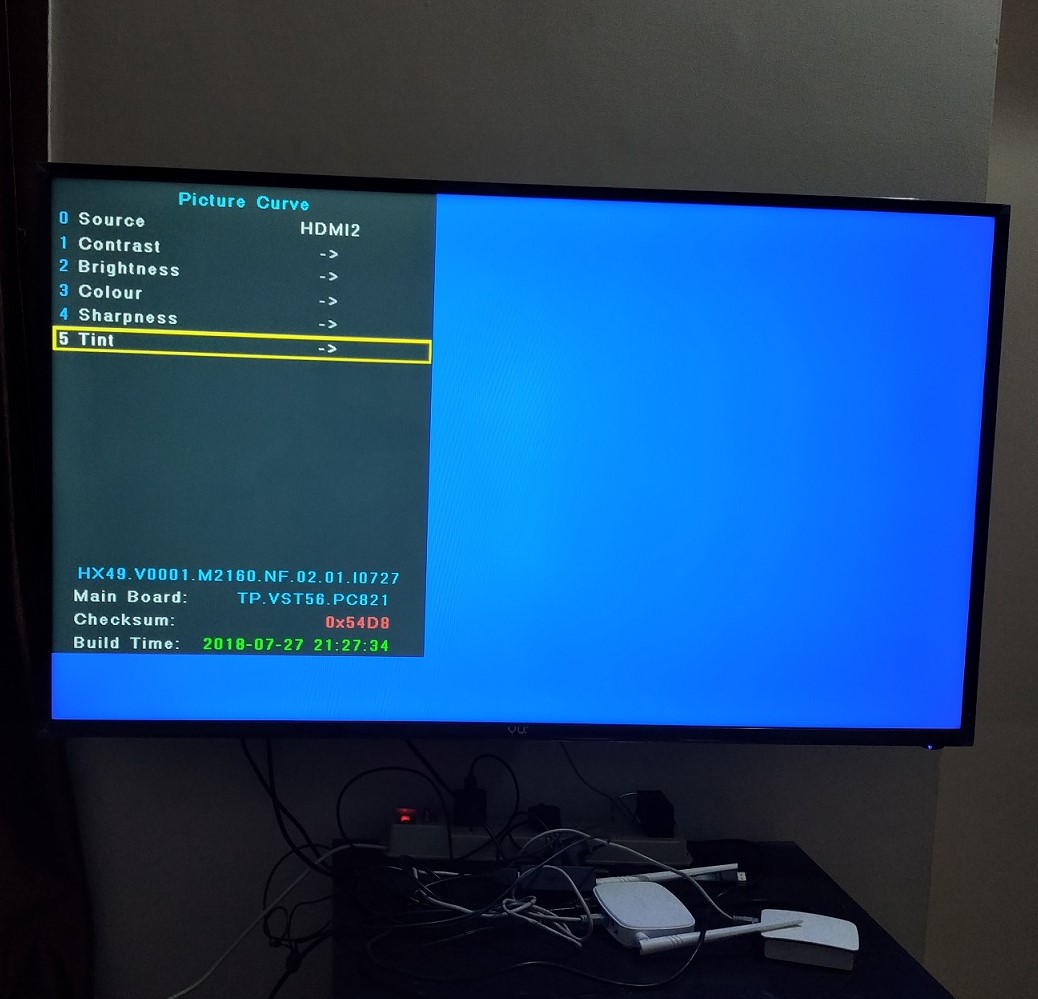 I turn the tint down to zero using the special service menu and the problem is gone.
The Backlight is still way too strong:
The backlight of the TV is still too strong and hurts my eyes. Vu doesn't give any option to change that. Even the service menu doesn't have any backlight settings. I panic and think of returning the TV.  But then service menu allows me to change the RGB gain on the LEDs which are all bumped up to 100 by default: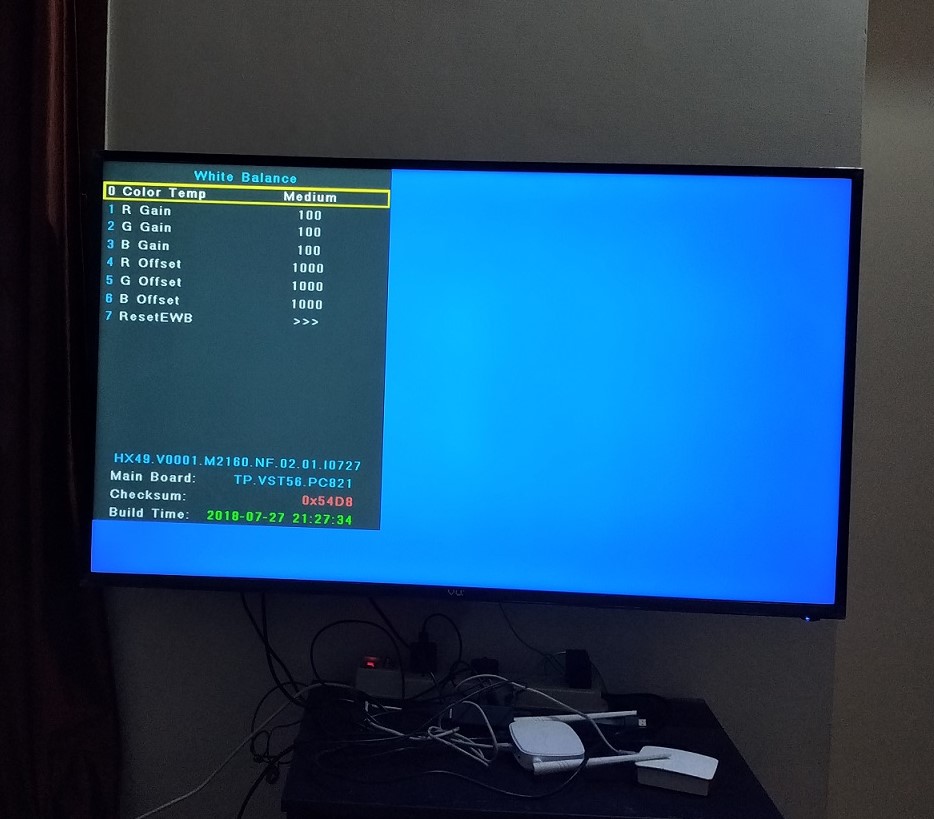 I realize if I bring those down proportionately I can control backlight of my panel. I do just that. The backlight goes much smoother and the strain on my eyes is gone.
Sorted.
The AI Is A Little Too Smart.
AI is the new thing and most TV's want to run the race of adding AI to their picture rendering. Companies like Vu however mostly do a mediocre job at it. The good part is they let you turn this off by disabling noise reduction setting to off.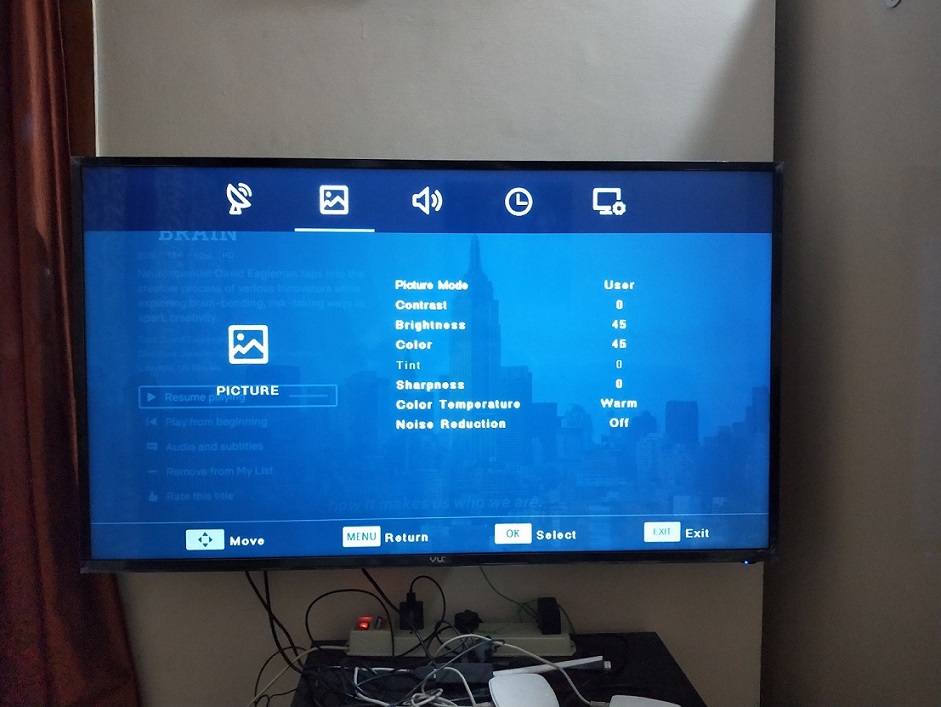 Much better.
Love-Hate Relationship With My TV
At this moment I have a love-hate relationship with my TV. I love gadgets which I can customize and root into. Most phones I've owned thus far, are rooted. The service menu of Vu essentially gives me root access to the TV and is very powerful. I dig that about the TV.
The fact that I can hack into my TV and have complete control over my TV makes me feel powerful.
The fact that Vu doesn't handle this little gripes out of the box and expects end users to wear their nerd glasses on to fix these issues make me a little annoyed. Meh!
Either way, all my problems with my TV are sorted and I have a two year extended warranty during which I can return the TV if I face any additional issues. So for now, this will have to do.
If you are thinking of buying a Vu TV - here is my honest advice: Buy it only if you are willing to wear your nerd glasses on and do a little bit of tinkering with the TV, both on the hardware and software front. If you are expecting it to work out of the box like a flawless appliance, Vu isn't for you.
Having said that, the TV is a Froogle choice and once you've made the modifications you feel really happy about spending half the money than what you would have spent of other TVs and getting similar picture quality and overall experience.
Couple the dumb TV up with a Firestick TV (which I bought at discount on Amazon) and a Raspberry Pi 3b+ (bought locally) and you'll have a full-blown smart TV with a pretty decent media center, but that's a whole new post in itself.
Being a Nerd Helps.
This post was just about my gripes and issues with Vu TV and how to fix those. If you own a Vu (or any other TV) and are facing similar issues (particularly electric current running through the TV frame), feel free to use some of these fixes and let me know how it goes.
If your TV just works fine, you can still take solace in the fact that even though most of what you buy or download online today is broken it can be fixed with a little bit of tinkering and geeking.
There is value in being a nerd today. You can stop feeling bad about being a geek. Being a geek is no longer a curse. In today's world it is actually a blessing.
Now go fix something that's broken.
---
Comment Section