There are Software, there are Shareware, there are Freeware and then there are FeelGoodware (ok, I think I just invented that term :)).
It's not about a tremendous productivity hike, becoming tremendously efficient with tasks or any of that... Of-course you could reach out for your Outlook to check your calendar and task-list but there's a "feel good factor" about having Deskjet on your desktop. And who doesn't like typing a couple of keystrokes less or a couple of seconds saved?  Here's what I mean: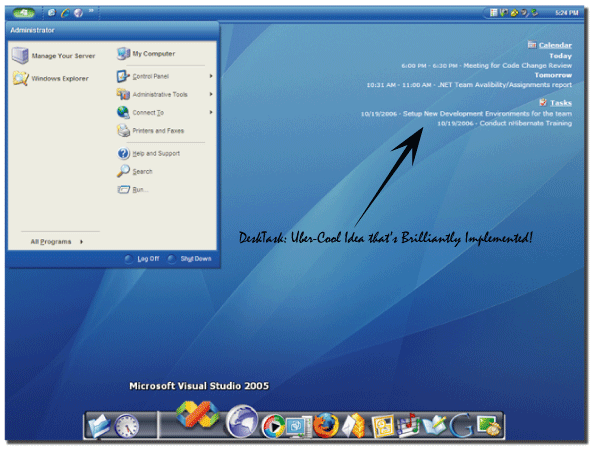 The Good -
It looks awesome.
It works with Outlook 2007 (Beta).
It's free and didn't install any adware, spyware or crap on my machine.
The Bad -
Moving the position of the application on the desktop is a little tricky! You have to click "somewhere" in the transparent application window, drag and hope that it moves :). Once you get "used to" moving it around it's all good though.
Default refresh rate is 1 hour. That means Items added in Outlook calendar / Outlook task-list don't show up on the desktop for sometime. Of-course you can manually refresh or set a lower interval using the options dialog box.
Eats a 6.5 Megs off my 1.5 gigs of RAM (ok, now that's not that bad! :)) - I guess, that's because it needs to invoke outlook behind the scene. 
The Ugly
Different people will download this for different reasons. For me, it's the "feel good factor" :) - Uber-cool idea that's brilliantly implemented! Get it Here.
---
Comment Section