Back in the day when I did consulting at a client office, a developer decided to throw a tantrum at his manager. We were in a meeting where a discussion the developers was having with his manager turned into an argument and then a fight.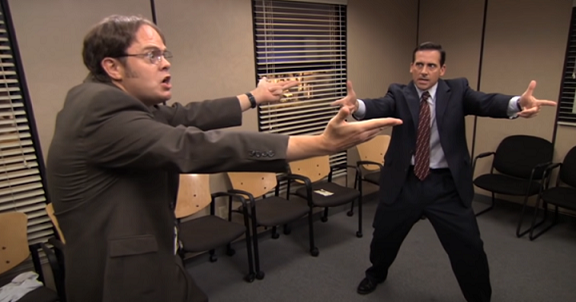 One moment, it's a reasonable technical argument, another moment, this dev, is fuming with anger and the tosses the white board duster on the wall, takes off his coat, rolls his sleeves, kicks the chair, says something really nasty to his manager, slams the gate of the meeting room and leaves the meeting.
There is an awkward silence. We all look at each other. The manager is embarrassed. But in a few seconds, he pretends as if nothing has happened and continues the meeting without the developer.
After the meeting there was a general discussion on the episode with the central focus around WWYD (What would you do) if someone in your team had done that to you and my stance on this was crystal clear. If I was the manager I would have done all in my power to get the get a firing decision taken for this guy at the organization level. I would then get the firing letter printed, given him the letter and then asked for a public apology if he wanted me to take back the firing decision.
Based on how sincere his apology was and what the reason of outbreak was, I would then have calmly reconsidered if I wanted to revert my firing decision or move forward with it.
Being a nice guy, is an active decision. A choice. Not a weakness.
Both David Allen (the guy who created GTD) and a sequence in the movie the karate kid talks about the concept of mind like water. If you throw a small pebble in water, the water gives you a small splash back and then returns to calm state. If you throw a boulder in water, you get an appropriate reaction, followed by calmness. If someone throws a huge boulder at you and gets no reaction, you're not calm, you are just weak. There is no niceness or glory is being treated like a doormat and yet doing no harm.
We all like being loved and respected. But whether it's work on personal relationships, you job is not to be loved or liked by people who can't offer you basic respect and decency. When people start fights and lash out at you, not lashing out back at them tells them it's OK for them to lash out at people without any reason.
When someone is repeatedly humiliating you, insulting you and walking all over you, just taking it and doing nothing about it, is never an answer.
The mark of a nice person is that you don't start fights or don't say nasty things to begin with or you can let go things a couple of times. But when others behave inexcusably with you continuously, your inability to retaliate doesn't make you a nice person. It just makes you a weak, uninteresting, spineless doormat.
A lot of young managers I have worked with think it's cool to be friends with your team and in this desperate desire to be liked and be seen as a nice person they are willing to be treated like a doormat but never retaliate.
I also see a lot of developers who believe it's not a big deal if their manager continuously intimidates and humiliates them. It's a same problem in parenting. If you don't believe me look at a few kids throwing tantrums in the isles of any supermarket and the parents tolerating that behavior because they want to be seen as nice caring parents.
Same problem with married couples. Same problem with friendships. Today it's not hard to bump into a couple or a parent child or a sibling relationship where one person is humiliating the other person publicly and the other, is just taking it. The strategy of avoiding a fight when you are being treated like a door mat never works out in the long run.
The problem is so commonplace you have an article on life hacker around how you can avoid this issue. The bullet points in the article are spot on:
Start With You - If someone else is devaluing you there's a good chance that you're doing the same thing, so change has to start with you.
Start Teaching Others - Your response to someone's behavior teaches them what is and isn't acceptable, so if you roll over and take whatever they give, the message is that it's okay for them to do that.
Stop Being a Bottomless Pit - It's great to do things for other people, unless the act of doing things for other people is how you get validation, of course. People-pleasing is not a selfless act; it's a selfish one.
Apply Confidence - If you're used to people walking all over you, it's likely that you're not used to asserting yourself.
Raise Your Expectations - An easy life is one thing, but sticking your head in the sand and hoping things will fix themselves is crazy—as is setting your expectations so low that you expect to be treated like a doormat.
If you've ever been treated like a doormat, I recommend you go through the entire article. From chimpanzees to bears every animals marks their territory and sets expectations of how they wish to be treated by others in their group, tribe or flock. If those expectations are not met they retaliate.
You may have seen a dogfight or a bear fight on the discovery channel where the alpha is bullying the underdog and then after a point the underdog gets annoyed, fights back and beats the crap out of the alpha.
That's an animal telling the Alpha, "I've had enough dude, step away from me!". And once the alpha backs off the underdog goes about his job of grazing the grass or straying peacefully. I personally believe that the retaliation from the underdog is what ultimately brings peace and harmony to the flock.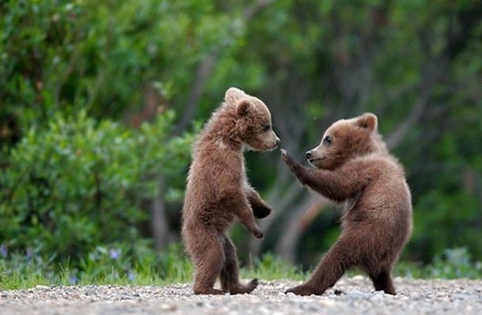 I'm not saying you fight or punish everyone for every little thing, but it's equally important you have boundaries beyond which you will not allow anyone to mistreat you.
The retaliation doesn't have to be driven by anger. Neither do you have to become passive aggressive, destructive or play games. The reaction can be a calm, composed retaliation just to set boundaries but none the less, there needs to be a retaliation.
Taking ongoing abuse and allowing someone to treat you like a doormat invariably leads to failed projects, outright insubordination, broken relationships, bullying, shattered self respect and eventually does as much harm to the the person humiliating you as it does to you.
From time to time we all have to take some disagreement, even some insult, humiliation and crap. This is not about being an arrogant prick who makes everything about his / her bloated ego and self respect. It's okay to take some humiliation or even insult. It makes us a humble person and teaches us the power of self control. But equally important is drawing very specific boundaries on how much crap and humiliations you will take and making it clear that you will not be walked over or insulted beyond a point.
So the next time someone blatantly disrespects you and shows that as a consistent behavioral pattern, speak up if you can. Being nice is completely different from a being a weak, spineless doormat with no personality. We need lesser jerks in the industry and sometimes you have to become a jerk to tell someone it's not okay to be one.
---
Comment Section